One of my favorite aspects of social media is those moments when uplifting images or videos pop up in my feed. When Shea Standefer recently shared a SoulPancake video about cosplay, I clicked on it immediately. SoulPancake is a media company that aspires to "encourage people to chew on life's big questions and figure out what it means to be human." The cosplay video highlights the passion and effort of three lady cosplayers, and perhaps tries to remind everyone that being a geek isn't about gender.
The video also happens to have an interesting connection to Unbound Worlds. A year ago, Essential Guide to Warfare co-author Paul Urquhart posted a piece here about the best starfighter pilots in the Galaxy Far Far Away, featuring accompanying artwork by Frank-Joseph Frelier. One of those images, Stealth-X Jaina, inspired Shea to create a costume for Celebration VI. She was even featured in Star Wars Insider posing at one of the fan-made set locations at the convention. Last year she also talked with Unbound Worlds about creating the costume. When Shea is interviewed in the SoulPancake video, the Unbound Worlds-inspired outfit appears behind her on a mannequin. If you're headed to Celebration Europe II or San Diego Comic-Con, be sure to look for her. At Celebration Europe, she joins Star Wars artists – names like Brian Rood, Chris Trevas, and Joe Corroney – as part of the feature art show.
Not just a Star Wars fan, Shea is a passionate follower of Game of Thrones, too. At the end of the SoulPancake video she poses as Daenerys Targaryen.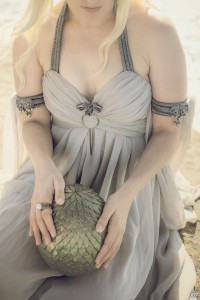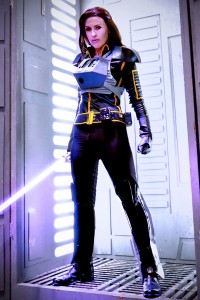 ---
Daenarys image credit Jeprox Shots.
Tricia Barr writes about Star Wars, genre storytelling and fandom at FANgirl Blog and Star Wars Insider. She is also currently working on her first novel Wynde. Fans can connect with her on Twitter at @fangirlcantina or Fangirl Zone on Facebook.